Suzie Higgie – singer / songwriter / guitarist -  founding member of the Falling Joys. Lover of family, friends, music, innovation, photography and gardening.

Welcome to my website where you can also buy my solo music / click here to visit the music page

 
---
NEWS
2021 - Livestream Thursday 14 January 7.00 - 8.00pm
POSTPONED
Hi everyone, unfortunately this had to be cancelled due to COVID hotspots near to Trish and Jodi - we will keep you posted when we can reschedule!! 
Sorry folks! 
Event description
Myself, Jodi Phillis and Trish Young (The Clouds) have been playing a few shows together lately thanks to the Great Southern Nights initiative for music workers in NSW, Australia during Covid-19. 
We had so much fun we've decided to take our very special set online! Playing songs from our bands in the 90's plus some of our newer tunes from solo albums, this is a special chance to catch our show, no matter where you live in the world.
You can choose your ticket price!
Seeya soon :)
TIX here HERE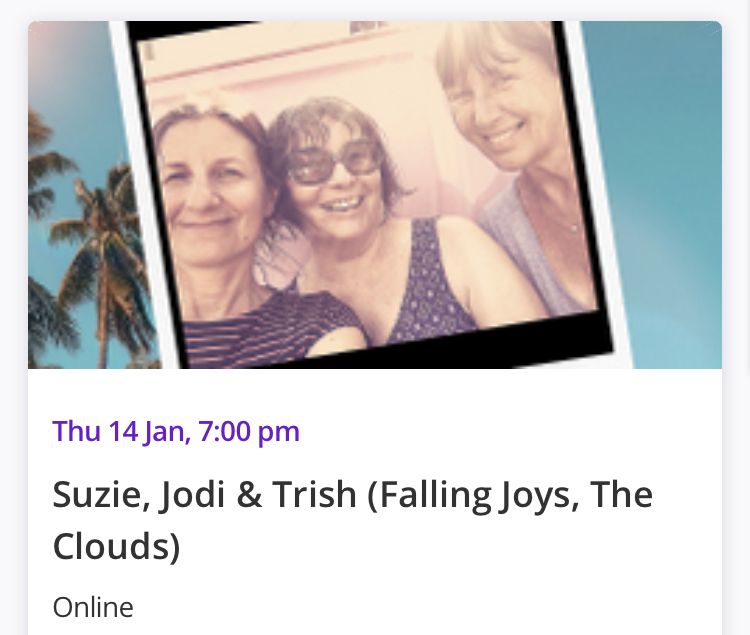 #SuzieHiggie #JodiPhillis #TrishYoung

 
---

 
COVID 2020
Thinking of all our musical family during this difficult time and know that everyone is doing it tough !

As for the Falling Joys, we have found some tour t-shirts from the vault for sale ! These include a free download of our last tour single 'Can't take 'em back.'
Please visit my t-shirt store on this website and love and thanks from the Joys for your support x


 
---



BOWDOWN PODCAST - second series released !
My wonderful sister Jennifer Higgie, has recently released her second series of Bow down podcast, off the success of her instagram (same name) where she explores the lives of women artists from all fields and periods. 
Bow Down – the podcast about significant female artists who deserve our attention – returns for series 2. Presented by Jennifer Higgie, guests include the artists Sonia Boyce, Amalia Pica and Sally Smart; the filmmaker Mark Cousins; the musician Alison Goldfrapp; potter Magdalene Odundo; curator and fashion designer Duro Olowu and the legendary feminist art-historian Griselda Pollock.
AVAILABLE ON YOUR FAVORITE PODCAST PLATFORM OR CLICK HERE                     
Brilliantly , she has included my song 'Wishbone' off 'Soon Will Be Tomorrow' as the podcasts theme music.
Available here music
Bow Down Jennifer Higgie !
---